05.18.2017
D-sub Connector Solutions - MIL-DTL-24308 connectors
---

ADI Electronics is an industry leader with over 14 years of success as a D-Subminiature manufacturer and engineering development partner, holding significant expertise in the Aerospace and Defense Industry. We've become the supplier of choice among numerous aerospace, avionics, defense and industrial customers by offering the highest quality, cost competitive D-sub connector solutions with a full range of customized design, manufacturing, and testing services.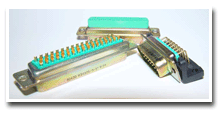 We deliver quality, in products and services that address the unique requirements of modern electronic systems. If its quality connector manufacturing and design services you need, then ADI Electronics is your solution.
Manufacturing Excellence
Customers will access a team of engineering and production personnel with proven connector manufacturing experience resulting in high manufacturability and testability of products. Our assembly personnel have on average more than 10 years of experience and are supported with test equipment, and computerized documentation.
ADI's in house DESC approved lab facilities are equipped to provide qualification, acceptance and testing services.
Products MIL-DTL-24308
The ADI D-Sub connector is available in a variety of basic shell sizes and pin-outs. Standard shell sizes are 9, 15, 25, 37 and 50 positions. Contacts are available in 20 AWG solder-pot, crimp or printed circuit contacts and intermate with MIL-DTL-24308 connectors.
Features
Standard contact termination accommodates 20 AWG wire at 5 Amps.
Shells: Steel, cadmium plated with yellow chromate supplementary coating.
Insulators: Commercial/Military – Green polyester per MIL-M-24519
Contacts: Non-Removable and Removable
Pins – copper alloy, gold over nickel plate.
Sockets – phosphor bronze, gold over nickel plate.
Float mounting available
Rivets and Washers: Stainless Steel
Mechanical Features
Coupling: Friction and Locking Accessories
Polarization: Keystone shaped shells
Contact type: Captivated
Termination: Solder pot, crimp removable and printed circuit (including right-angle)
Visit Catalog
Electrical Performance Data
Wire Size: 20 AWG
Current Rating: 5 amps
Voltage Rating: 1250 VAC at sea level – 375 VAC at 70,000 feet
Voltage Drop: 20 AWG contacts: 55mV Max initial and 65 mV Max after corrosion at 7.5amps (when tested in accordance with MIL-C-24308, Paragraph 4.7.10.)
Need Immediate Assistance?
Call Toll Free 1-888-257-5027 or email us: sales@nusourcetech.com
http://www.nusourcetech.com/request-quick-quote.html